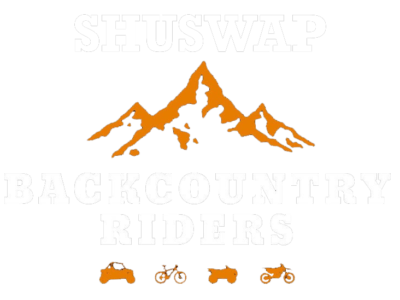 Promoting Responsible Motorised Back Country Access
When filling out the membership form
please select "Shuswap Backcountry Riders"
2022 ANNUAL GENERAL MEETING
Further to the email sent out to club members and friends, this is to inform you that we have selected the date and location for our 2022 Annual General Meeting. It will be held on November 24th at "The Jade Buffet of China", 100 Trans-Canada Hwy, Salmon Arm. This meeting is open to paid up members and their spouses. The club will cover the buffet dinner cost but beverages are on you. We've asked the restaurant to prepare a space for us starting at 6:30 pm so we can socialize for a while, then eat and start the meeting at 7:30pm. This will be a well planned event so hopefully we can be out of there by 8:30pm. We hope to see a good turnout to make 2023 a great year for the SBR!
Please RSVP to [email protected] if you plan to attend so we can assure adequate seating for all.
WHY JOIN SHUSWAP BACKCOUNTRY RIDERS?
In the spring, summer and fall, the backcountry of the Shuswap provides many forms of recreation for ATV, Quad, Side by Side, Bike and 4×4 users.  The Shuswap has an incredible network of roads and trails offering a diversity of recreational opportunities.  These options continue to be available  due to the countless hours invested by volunteers and clubs like ours.
By becoming a member you will assist our club and support with our trails, cabins, fundraising and to ensure the mountain is accessible for ALL of us.
We aim to ensure that the management of the Shuswap's public lands are in British Columbia's best interest, and, balanced to provide positive outcomes for all without removing or excluding responsible access.
We believe that by having all backcountry enthusiasts working together we can create solutions for preserving continued enjoyment of our mountains.
RIDE WITH US!
We look forward to having you join us.
RIDE RESPONSIBLY! RIDE SAFELY!